Latteria Sociale Ca' De' Stefani S.C.A.


T: 0372 830270 | F: 0372 81142

Via Padana Inferiore, 12
26039 – Vescovato (CR)
On 28 January 1900, 10 dairy farmers went to see the solicitor Attilio Barbieri in order to set up one of the first dairy cooperatives in the Po Valley, naming it after the municipality in which it was to be located: Cà De Stefani.
As the articles of association state, these milk producers chose the path of cooperation in order to "promote" the processing of milk produced by the member's dairy farms and to sell the resulting products jointly.
Today we meet Giorgio Pirini, the general manager of the cooperative.
He has been here for 39 years without taking a single day off work, carrying out with pride and dedication the same mission that had brought the 10 farmers together in 1900.
He takes us on a tour of the cheese factory whose milk is supplied by 25 dairy farms located within a range of around 40 kilometres.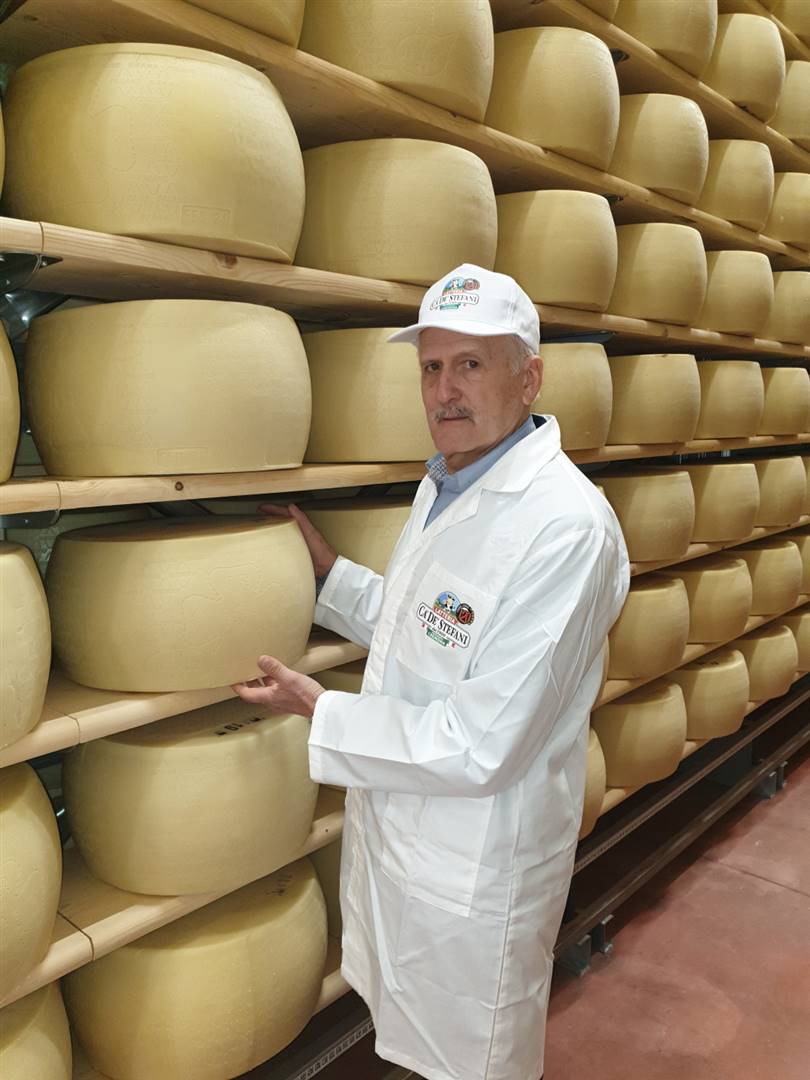 The cheese-making room has been recently built and here we can see the wheels that have just been taken out of the cauldrons hanging from conveyor belts, passing over our heads on their way to the facility where they will be placed in special moulds.
We go over to the brining area where some new tanks are under construction, but for the time being they are still using the old tanks in which the wheels have to be regularly turned by hand to ensure that each part of the cheese is soaked in the brine.
We then go into the ageing storehouse, and find ourselves looking down a corridor with lots of doors on the left and right. Each door opens onto a room filled with tall shelves stacked floor to ceiling with Grana Padano wheels.
"The storehouse was designed in the 70s with separate and mutually independent rooms so that the technical data for temperature and humidity could be set individually according to the ageing stage of the cheese."
We complete our tour with a visit to the test lab, where a specialist technician performs the testing of both the milk and the cheese.
Finally, we return to the office where we are joined by the President Libero Stradiotti.
"Grana Padano has always been part of my life; in the late 1920s my grandfather built a cheese dairy on his farm."
He worked in his own dairy until the mid 80s, then he went on to work at Auricchio, and finally came to Ca De Stefani.
Libero was one of the first members of the board of the Grana Padano Protection Consortium and recalls the first advertising they did in the 60s, which was featured in the women's magazines Gioia and Rakam."Our President at the time, Franco Bodini, would never tire of saying that there was always too little advertising, and today we can safely say that his message has been heeded!!"