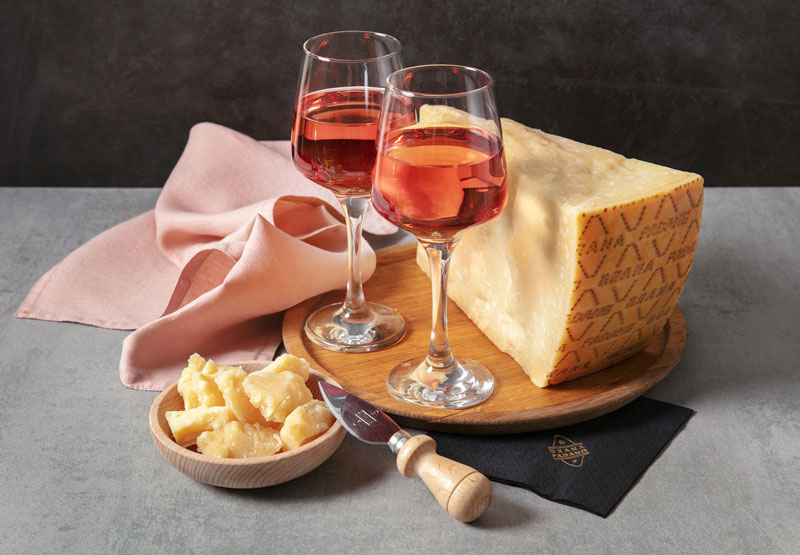 This is a Controlled Designation of Origin (DOC) rosé wine. It is made with at least 85% Montepulciano grapes and the remaining 15% can be suitable varieties from the Abruzzo region. Fermentation mainly takes place in steel and the wine can be sold approximately six months after the harvest.
– Recommended ageing period: no longer than two years after sale.
– Alcohol by volume: 12.5 % Vol.
– Made mainly in the hilly areas of the Abruzzo region, in vineyards at altitudes of under 500 metres, or 600 metres if facing south.
– Store in the cellar at a constant temperature of 11-15°C for two years or at room temperature for just a few weeks.
– Serve at 12°C in medium-sized glasses.
Characteristics (visual, scent, flavour):
Ultra transparent coral pink. Its scent presents prominent cherry, raspberry juice, and myrtle berry notes, but also rose hip nuances, with sage, and rosemary towards the end. Initially soft in the mouth, it then opens up with tangy and crisp notes which give it balance.
The wine's delicate structure pairs ideally with the characteristics of this medium mature Grana Padano. Additionally, the delicate tanginess and touch of acidity in the cheese are balanced by its softness and well balanced alcohol levels.
Curious facts
"It was awarded DOC status in 1968 as a type of Montepulciano d'Abruzzo, as the only difference between the two wines is their wine making techniques. Its specific identity was only recognised with a separate designation from the year 2000 harvest.
Its production specifications include a 'superiore' with greater body and alcohol content.
It is fairly easy to source in both wine shops and at large-scale retailers."
Other semi-sparkling red wines which go well with Grana Padano PDO aged 9 to 16 months:
– Riviera del Garda Classico Chiaretto
– Bardolino Chiaretto
– Rosato del Salento
– Castel del Monte Bombino Nero