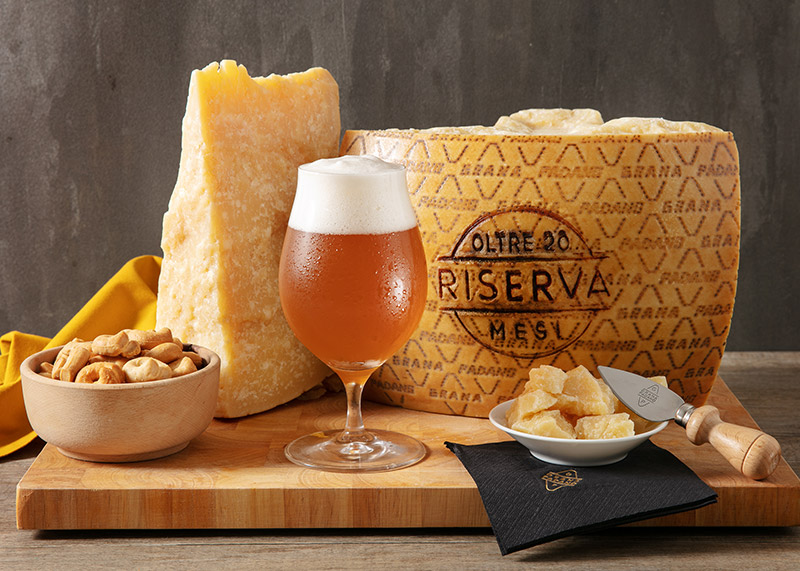 This style originated in Belgium but it has become popular and consumed all over the world, with some excellent Tripels now also made outside Belgium.
– Storage: as a high fermentation beer it does not need to be kept refrigerated but storage temperatures must not exceed 18-20°C.
Beyond this (unless it is pasteurised) a new fermentation may begin in the bottle with unpleasant consequences.
– Serving temperature: from 10 to 16°C in a goblet with a wide bowl. Initially the glass must be tilted 45° and then straightened up to favour the formation of a good head of foam.
We recommend checking the bottom of the bottle carefully: versions that are not fully filtered may contain greater quantities of lees, given the presence of yeasts. One option is to leave a centimetre of sediment in the bottle, shake it up and serve it in a separate glass to appreciate the qualities provided by the yeasts.
– Alcohol by volume: 7,5-9,5% alc.
Characteristics (visual, scent, flavour):
Its colour varies from golden yellow to intense yellow and some versions can be slightly cloudy. The head is generally so long lasting that it generates what is called the 'Belgian lace' effect. Its bouquet is a complex one which ranges from notes of yellow fruit and citrus, together with mildly fruity yeasts and certain nuances reminiscent of acacia or mixed flower honey. Spices such as pepper and cloves finish off the nose. It is equally complex in taste with nuances again tending to honey, fruit and spices. On the finish, the best examples of this style are medium bitter and this, together with a medium-light body and high carbonation, tends to give it a particularly lean taste despite its extremely high alcohol levels.
In particular, given its alcohol levels, we recommend pairing it with the final part of a meal, especially in a multi course meal.
Its aroma and flavour complexity pairs well with the characteristics of Grana Padano aged more than 24 months, but not only. Its concealed alcohol and sparkling carbonation, as well as its fruity and spicy notes, succeed in balancing and, at the same time, exalting the savoury and fruity notes of Grana Padano and its residual sugars. Some of these beers are less dry and have a more marked sweetness and a more alcoholic feel, whilst remaining easy to drink. It remains a successful and well balanced pairing.
Curious facts
This style originated at the Trappist monastery in Westmalle in the 1930s in response to market demands following a law which banned the sale and consumption of hard liquor. The recipe was then reworked in the 1950s and has remained the same ever since. The genesis of the name Tripel is uncertain. According to its Westmalle origins, it refers to the quantity of raw materials used which were triple those used in the monastery's other beers. Another theory traces the birth of the name 'tripel' to the need to identify the beer's higher alcohol levels as compared to dubbel.