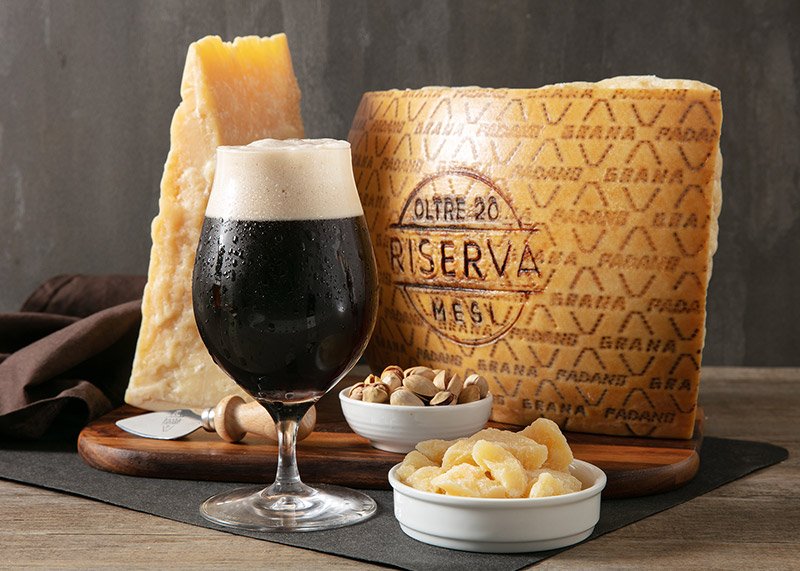 A recently invented style which originated in the United States, the nation in which craft beermaking was reborn globally and which has left its mark on new generation beers, in particular those with a strong hoppy flavour.
– Storage: as a high fermentation beer it does not need to be kept refrigerated but storage temperatures must not exceed 18-20°C.
Beyond this (unless it is pasteurised) a new fermentation may begin in the bottle with unpleasant consequences.
– Serving temperature: 8-10°C in the classic American pint glass which exalts its aromatic components, or in an IPA glass, with its peculiar form developed by two great names in American beermaking, precisely to celebrate and affirm the provenance of these two beers.
– Alcohol by volume: 5.5 – 9.0% vol.
Characteristics (visual, scent, flavour):
Dark in colour, sometimes brown or black. A slight cloudiness is allowed but usually these are clear beers with a dark, visible and compact beige head. The scent of tropical fruit prevails, melon, with a herbaceous backdrop and sometimes nuances of pine and balsamic notes. In the background there are mild chocolate and roast coffee nuances, and delicate caramel.
In taste terms the bitter component is marked with tropical and balsamic nuances and a delicate chocolate and coffee, sometimes roasted coffee note. The beer is pleasantly dry and features strong notes of toasted malt and hops. Both body and carbonation are medium, in a sometimes mildly creamy beer. In some stronger versions a delicate alcohol content is perceptible and gives greater structure.
This is an extreme beer which lends itself to pairings with the second half of a meal and is therefore ideal with extra mature Grana Padano. Fans of unusual pairings will thoroughly enjoy this combination. In an interplay of consistencies and encounters between high impact sensations reminiscent of exotic and dried fruit, this type of beer also proves an excellent match for the distinctive savoury notes of extra mature Grana Padano.
Curious facts
Also known as Cascadian Dark Ale, this beer was first made in Vermont in the 1990s as a variant of American IPA but it was only in the early 90s that it began spreading, first to California and then around the world, gaining favour with beer enthusiasts everywhere.