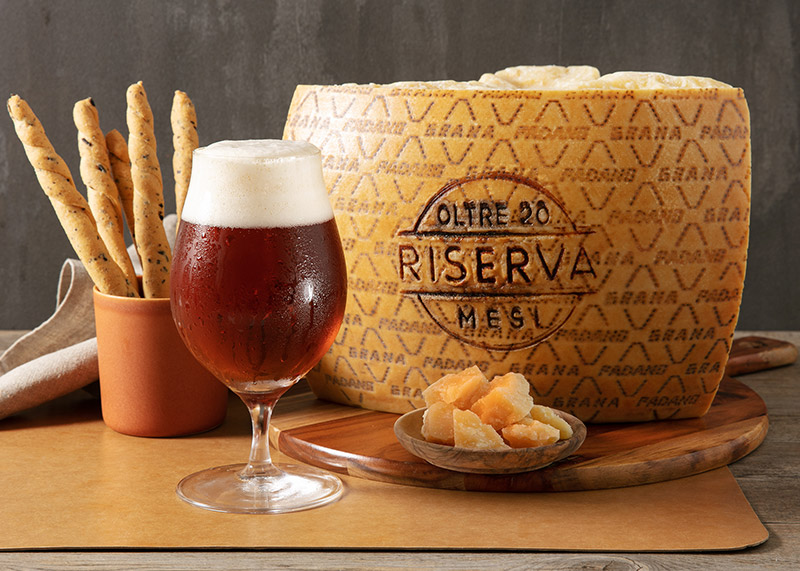 The name is a clear indication of its geographical origin. The appeal and power of this type of beer have transcended well beyond the borders of Flanders and Wallonia and it is both made and drunk throughout the vast beer drinking world.
– Storage: as a high fermentation beer it does not need to be kept refrigerated but storage temperatures must not exceed 18-20°C. Beyond this (unless it is pasteurised) a new fermentation may begin in the bottle with unpleasant sensory consequences.
– Serving temperature: from 10 to 16°C in a glass with a wide bowl such as a goblet.
Initially the glass must be tilted 45° and then straightened up to favour the formation of a good head of foam. We recommend checking the bottom of the bottle carefully: versions that are not fully filtered may contain greater quantities of lees, given the presence of yeasts. One option is to leave a centimetre of sediment in the bottle, rotate the bottle lengthways and serve the deposit in a separate glass, to appreciate the qualities provided by the yeasts.
– Alcohol by volume: 8-12% alc.
Characteristics (visual, scent, flavour):
Its colour varies from intense amber to brown with garnet highlights. It is generally clean or mildly cloudy in appearance with a prodigious quantity of compact, creamy beige or cappuccino coloured foam, so long lasting that it generates what is called 'Belgian lace' in the glass. Its aromatic personality is powerful in both intensity and complexity, with notes of caramel, honey, toasted hazelnut and almond and amaretto, and fruit such as ripe banana, plum, raisin, prune and dried fig, spices such as cloves, pepper and liquorice and delicate herbaceous and aromatic notes. All this is mirrored in the mouth with a medium-full body, medium-high carbonation and a lean, dry finish highlighting its bitter notes which are, in any case, kept under control and tasked with performing a balancing role as regards the beer's primary softness – alcohol and sugar – backed up by a pleasant alcoholic warmth. In the light of the ethyl character mentioned above, Belgian Dark Strong Ales are predictably suited to pairings with dishes towards the end of a meal.
Their robust body and strong aromas and flavours pairs well with Grana Padano PDO Riserva aged over 20 months. Specifically, their alcohol and carbonation work to balance the fatty component of the cheese. Their rounded quality in the mouth do the same with the cheese's savouriness and their aromatic toasted notes meld well with the cheese's corresponding aromatic qualities. A harmonious and intensely pleasant encounter.
Curious facts
An alternative name for Belgian Dark Strong Ale is Quadrupel. It is a recent name launched in 1991 by a brewery managed by Trappist monks, specifically those of Koningshoeven Abbey in Holland (whose beer products bear the name 'Le Trappe'), with the intention being to extend the traditional range comprised of Enkel, Dubbel and Tripel by adding an extra strong beer.